Water Damage in Cincinnati
Weather Alert: If you are experiencing weather-related damage from the storm, call us today for emergency assistance!
911 Restoration of Cincinnati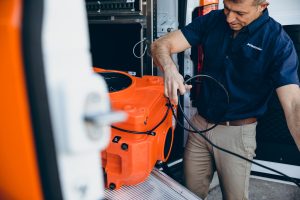 You can get help today if you experienced a flood, water damage, fire, or mold outbreak in Cincinnati. The professionals at 911 Restoration of Cincinnati are prepared to race out to your property within 45 minutes of an emergency call. Likewise, we are on-call 24/7/365. Contact us if you need a Fresh Start. IICRC certified techs are standing by to bring your property back into perfect condition.
At 911 Restoration of Metro Cincinnati, we offer a Fresh Start with our comprehensive selection of property damage restoration services, including but not limited to:
Whether you're a Metro Cincinnati  homeowner or business owner, 911 Restoration of Metro Cincinnati is your Fresh Start! We'll communicate with you throughout the entire process, help answer questions related to insurance, and restore your property to its pre-damaged condition. One of our IICRC-certified teams is dispatched within 45 minutes of your call! Contact us today, and one of our friendly representatives will assist you in finding the nearest Metro Cincinnati location.
Service area map
Water Damage Restoration
Water damage emergencies in Dayton can have a serious impact on your home or business. Fortunately, you can get fast help with water extraction and dehumidification from 911 Restoration of Cincinnati. Our water damage restoration techs in Dayton are licensed, bonded, and insured to help you.
You can contact us if you're dealing with frozen pipes, a pipe burst, or a flooded basement. Allow us to focus on damage caused by ice dams in the winter and flooding from heavy rains in the summer. Crews can repair water damage and get you back on your feet quickly.
Reach out to water damage restoration techs in Dayton if you have a flooded bathroom, a flood in your basement, or any other kind of water damage emergency.
Tornado Damage Restoration
Severe weather can strike at any time, regardless of where your company is located. Our professional team is available 24 hours a day, 7 days a week to help limit tornado damage. Tornado Damage Restoration services from 911 Restoration of Cincinnati provide a turn-key solution to any weather-related disaster. Our goal is to respond swiftly and be prepared for everything, from hurricane repair to tornado damage.
Sherry M.
"I would give them 6 stars if I could. I had to deal with a flood in my business, an absolute nightmare for every business owner. 911 Restoration came right away, and they are so professional and efficient. Even after everything was done they followed up and made sure everything was back to normal. A+ customer service. Thank you!"
Sanitization Services & Disinfection Solutions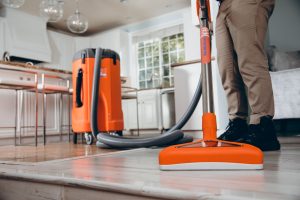 With the coronavirus pandemic in full swing, it's plain to see that every business and person has been affected. Because of this, the virus has reached a global scale, which is why now is the time for all of us to work together to fix this problem. One thing we can all do is maintain our personal hygiene while scientists work toward a vaccine.
Property owners can go even further by working to keep their buildings sanitized according to protocols. Doing so will keep the people who come and go remain as protected as possible. For this reason, 911 Restoration of Cincinnati is ready and able to provide sanitization services in addition to various disinfection solutions for both residential and commercial properties. All of our technicians maintain full compliance with all current CDC and EPA protocols in an effort to provide optimal results with our sanitization services. We can get through by working together. You can depend on our technicians to provide you with much-needed peace of mind, because your safety and satisfaction are our priority.
Mold Removal & Water Damage
Mold is a naturally occurring substance that can cause property damage if it invades your home or business in West Chester. It spreads quickly in areas that are damp or dark, which is why it's important to start mold removal in West Chester as quickly as possible.
911 Restoration of Cincinnati offers fast mold remediation services. Beginning mold removal in Cincinnati quickly can protect your property from further damage. Mold removal in Cincinnati can also protect your health, as some forms of mold are toxic.
The mold cleanup experts at 911 Restoration of Cincinnati have the training and experience to eradicate fungal growth. Crews are trained to handle both commercial and residential mold decontamination services. Allow us to thoroughly search your property for a fungal infestation with a mold inspection in Cincinnati. As a matter of fact, contact us around the clock.
Sewage Backup, Water Damage, and Cleanup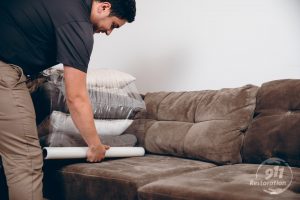 Here at 911 Restoration of Cincinnati, we understand that sewage backup can be difficult to handle on your own. That's why our sewage cleanup pros are standing by to race out to your property. Allow us to handle toilet water damage for you.
You should not attempt to clean up raw sewage on your own. Sewage contains numerous pathogens and bacteria that can cause illnesses. Sewage cleanup techs in Cincinnati will arrive at your property with personal protective gear (PPG) to safely remove sewage.
Furthermore, you can rely on us to thoroughly disinfect your property after a sewage backup in Cincinnati. Crews remove the sewage, stop additional sewage from entering your property, and eradicate sewage odors. We know what it takes to handle sewage restoration in Cincinnati.
Allow water damage restoration specialists in Cincinnati to handle your needs after a sewage backup. 911 Restoration of Cincinnati can even check your property for signs of mold growth after a sewage spill. Get back your peace of mind by contacting us now.
Fire and Smoke Damage Restoration
You can get help recovering from a fire in Dayton by contacting 911 Restoration of Cincinnati. Fire and smoke damage can be wiped away if you get professional help. In fact, our fire cleanup crews can race out to your property to perform a fire damage inspection and begin fire damage restoration in Dayton.
Fire damage restoration focuses on bringing your property back to perfect condition. You may need fire damage restoration in Cincinnati after a commercial or residential fire. Our experts can even help if you are dealing with puff back damage associated with a malfunctioning furnace.
Of course, getting professional help immediately after a fire can cut down on how long fire damage restoration in Cincinnati will cost. Turn to 911 Restoration of Cincinnati for help now. We can handle fire damage, cleanup sprinkler water, and fully renovate your home or business.
Disaster Restoration
A disaster in Cincinnati can strike without warning. In this case, you may need fast professional help if you are dealing with damage caused by a tornado, flood, or fire. You can get the assistance you need right away by contacting the disaster restoration experts at 911 Restoration of Cincinnati. 
Disaster restoration in Cincinnati doesn't have to be something you handle alone. At the same time, the professionals at 911 Restoration of Cincinnati can take immediate steps to:
Board up your property

Complete emergency roof repairs

Pack out and store your possessions
In fact, 911 Restoration of Cincinnati can erase any evidence that you experienced a property disaster. We can help with water damage restoration, mold removal, and fire damage restoration. No job is too big or too small for us, so reach out to us today.
Commercial Restoration
Commercial property owners in Cincinnati can end up dealing with property damage after a flood, pipe burst, fire, or mold outbreak. Conversely, 911 Restoration of Cincinnati can help in any of these situations. Our commercial restoration specialists are trained to handle the unique needs of commercial property owners.
You can rely on us to work around your schedule as we take care of flood cleanup and water damage restoration in Cincinnati. Crews are trained in advanced fire damage restoration techniques, including soda blasting. Moreover, we have the resources and equipment to wipe out the mold, even in hard-to-reach places like under the floor of your business.
Allow us to focus on commercial restoration for you, so you can continue to care for your customers. Our techs will work to wipe out all signs that you experienced fire damage, a flood, or a mold outbreak. Get your commercial property operational again by calling us today.
Serving the communities of Loveland, Maineville, Mason, Milford, Terrace Park, West Chester, Camp Dennison, Cincinnati, Dayton and surrounding areas.