Mold Removal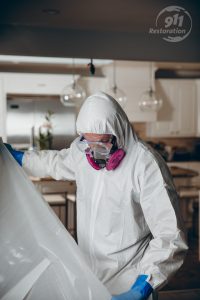 Are you dealing with a mold outbreak in your home or business in Cincinnati, Dayton, West Chester, or surrounding areas? If so, 911 Restoration of Cincinnati is here for you. Our IICRC certified mold removal specialists can provide you with a Fresh Start. Crews can reach your property within 45 minutes of an emergency call and they're on-call 24/7/365 at 513-296-6522.
Mold remediation in Cincinnati may be necessary if you spot signs of a fungal infestation in your home or business. Mold warning signs can include strange discoloration on your walls, floors, or other surfaces. You should also be cautious if you begin to notice a strange odor with no obvious source. This can indicate that there is mold growing under your floors or behind your walls.
Fortunately, the mold removal experts at 911 Restoration of Cincinnati know how to eradicate all signs of a fungal infestation. Crews are standing by to check your property for mold with a mold inspection in Cincinnati. Mold cleanup specialists can find mold even in hard to reach places that can be difficult to find on your own.
Once crews find evidence of mold, they can begin offering you same-day mold decontamination in Dayton. Wiping out mold quickly is important, as this can prevent the mold from continuing to spread. Mold can keep growing until mold remediation in Dayton is completed, so make sure you get help quickly from the experts at 911 Restoration of Cincinnati.
What Causes Mold Growth in Cincinnati?
Many property owners in West Chester are not sure how a mold infestation developed in their property. Mold often grows in areas that are damp and dark. This means you could experience a mold outbreak if you face a water damage event in West Chester or the surrounding areas. Flooding, pipe bursts, and sewage backups can all lead to mold outbreaks.
911 Restoration of Cincinnati can help you handle both mold removal and water damage restoration. In fact, our water damage restoration crews are licensed, bonded, and insured to quickly dry out and dehumidify your property. Crews can get rid of excess moisture, making it more difficult for mold to grow in your home or business. call 911 Restoration of Cincinnati at our number 513-296-6522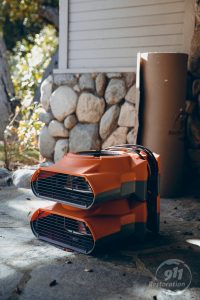 Water damage restoration in Cincinnati can often be completed in only a few days. Getting fast help after a pipe burst or flood reduces the odds that you'll need mold remediation in the future. That's why 911 Restoration of Cincinnati offers same-day:
Water extraction services
Drying and dehumidification services
Water damage repairs
While crews are handling water damage restoration, they can perform a mold inspection for you. We treat all evidence of mold growth very seriously here at 911 Restoration of Cincinnati. Crews can get to work right away by isolating areas with mold growth and taking steps to protect both your property and your health.
Get the help you deserve if you think a water damage emergency caused a fungal outbreak in your home or business. Reach out to us now so we can give you back your peace of mind. so contact us today at 513-296-6522
What Happens During Mold Remediation in Cincinnati?
You may wonder what to expect from the mold remediation process in Cincinnati. You should know that there is no one-size-fits-all salutation for mold removal in Cincinnati. Instead, mold remediation techs will assess your unique needs with a mold inspection in Cincinnati. After mold decontamination crews complete your mold inspection, they can:
Set up plastic sheeting to stop mold from spreading
Use air filters to remove mold spores
Scrub down all surfaces exposed to mold
Decontaminate your home or business
Crews can even pack out and store your possessions after a mold outbreak. Keeping your undamaged possessions away from mold can prevent further infestation. This can keep the costs of mold removal low for you here in Cincinnati.
The crews at 911 Restoration of Cincinnati can also help you with the underlying causes of a mold infestation. We're prepared to handle flood cleanup and water damage restoration in your home or business. Our crews are dedicated to offering you a Fresh Start after you experience a mold outbreak in Cincinnati. Call us at 513-296-6522 and see how we can help you.
911 Restoration of Cincinnati can even help you file an insurance claim after a mold outbreak. We are familiar with the major insurance companies in Dayton, West Chester, and surrounding areas. Allow us to help you list out items you lost and the full costs of completing mold remediation in Cincinnati. We can provide you with comprehensive help every step of the way, to ensure that your property is brought back to better-than-new condition.
Serving the communities of Loveland, Maineville, Mason, Milford, Terrace Park, West Chester, Camp Dennison, Cincinnati, Dayton and surrounding areas.