Water Damage and Mold Removal in Camp Dennison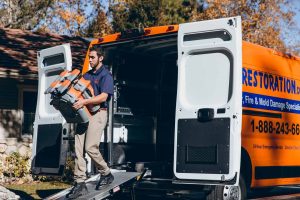 For expert water damage restoration, mold removal, and fire cleanup, look no further than 911 Restoration of Cincinnati. Our expert technicians are here for you 24 hours a day, seven days a week. When you call, they arrive in 45 minutes or less… guaranteed.
Every member of our staff is IICRC certified and extensively trained in property restoration. This includes mold remediation, flood cleanup, fire restoration, and much more. They repair all surfaces and structures, doing whatever it takes to leave you with a home or business that's good as new.
We know there's no telling when disaster will strike. Whether it's a frozen pipe burst, a flooded basement, or violent storm damage, our crew is here for you. They move quickly and serve you with compassion. You can count on total transparency and clear communication every step of the way. 
If you're concerned about the cost of water damage restoration or any other service, don't worry. Not only do we minimize costs with swift service, we also make sure you get the support you're entitled to. An expert on staff sits down with you for a free insurance consultation. They go over your policy and clarify which services your provider is responsible for. They even assist you with loss itemization, claim filing, and direct billing.
At 911 Restoration, our goal is to alleviate all your worries and help you get through this disaster as quickly and easily as possible. Your home or business can be brand new again. All you have to do is call 911 Restoration of Cincinnati.
A Fresh Start After Water and Mold Damage
We provide water damage restoration and mold removal in Camp Dennison because we're dedicated to giving our neighbors a Fresh Start after disaster.
In fact, our staff works by the Fresh Start philosophy. We believe every challenge is an opportunity to rebuild better than before. This is what your flood cleanup crew and mold removal techs have in mind when they answer your call.
Our water damage restoration service is comprehensive. When our staff arrives on the scene, they immediately begin emergency flood cleanup services. This includes:
Packing out and storing at-risk items

Boarding up

Storm repair

Roof repair

Water extraction

Sewer flood cleanup

Sanitization

Carpet drying and structural drying

And much more
Once they've removed all moisture from your flooded basement, they check for structural damage. If they find any issues, our water damage restoration crew handles repairs personally.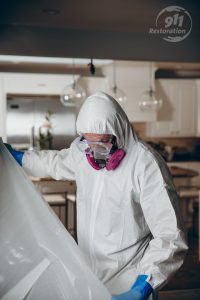 Then, our workers conduct a thorough mold inspection. Infestations are common following frozen pipe bursts, flooded basements, and other water-related catastrophes. Fortunately, you can trust our mold removal staff for a comprehensive inspection. If they discover any growth, our professionals handle mold remediation using expert tools and methods. Once they've completed mold removal, they dehumidify the structure to ensure fungus does not return. 
Even if you have not experienced a major water damage incident like a pipe burst, you can still turn to 911 Restoration for mold cleanup service. In fact, we ask that you do. There is no such thing as a harmless infestation. Mold eats away at the structure of your property and releases dangerous particles into the air you breathe. It's important to seek professional assistance right away.
From frozen pipe bursts to basement mold, make 911 Restoration of Cincinnati your first and only call.
Full-Service Fire Restoration in Camp Dennison Area
A property fire is a devastating experience. After all the time and money you have invested in your home or business, nothing is more heartbreaking than seeing your passion project taken down by fire and smoke damage.
We understand. And we're determined to make your property feel like your own again.
Our fire damage restoration crew has undergone rigorous training to bring you comprehensive service. They are experts in odor and smoke removal, fire cleanup, structural repairs, and more. 
When the fire cleanup staff arrives at your property, they pack out and store your unharmed belongings for safekeeping. Then, they attack ash and smoke damage using sodablasting and other professional cleaning techniques. They work tirelessly to make every salvageable surface sparkle again, including furniture and dishes.
Beyond soot and smoke removal, our fire cleanup technicians repair or replace every damaged material. They rebuild everything from your floorboards to your roof. If your property has been flooded by the firehose, no problem. They take care of flood cleanup and mold remediation, too.
911 Restoration of Cincinnati is here for you, no matter the disaster. For fire restoration, mold remediation, and flood cleanup in Camp Dennison and beyond, call 911 Restoration today.
Servicing the cities of Camp Dennison, Cincinnati, Dayton, Kings Mills, Loveland, Maineville, Mason, Milford, Terrace Park, West Chester, and surrounding areas.