Commercial Restoration
You can get professional help if you experienced commercial property damage in Cincinnati, Dayton, West Chester, or surrounding areas. The professionals at 911 Restoration of Cincinnati can reach your property within 45 minutes, 24/7/365. You can reach out to our IICRC certified commercial restoration specialists to get a Fresh Start now.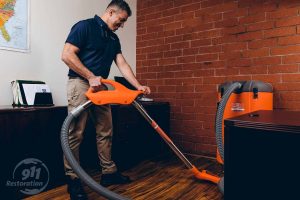 A water damage emergency can impact your commercial property without warning. In this situation, you can get help fast from 911 Restoration of Cincinnati. Our water damage restoration experts are licensed, bonded, and insured. Crews know exactly what it takes to handle water removal and cleanup for business owners in Cincinnati. call 911 Restoration of Cincinnati at our number 513-296-6522.
You can also count on us if you need help after a commercial fire. Fire damage restoration in Dayton can help you recover from a large or small fire. Crews can get rid of smoke, ash, soot, and odors for you. We won't make you wait to begin the cleanup process if you're dealing with water damage from sprinklers or fire hoses in Dayton.
911 Restoration of Cincinnati also handles commercial mold removal. We know that mold can spread quickly, especially after you experience a water damage emergency in Cincinnati. Crews can check your property for fungal growth with a mold inspection. If we spot mold, we're ready to begin mold remediation right away in Cincinnati.
Get help handling any kind of commercial restoration in Cincinnati by contacting us now. You can reach out to us around the clock to get back your peace of mind after a water damage emergency, a fire, or a mold outbreak. Call us at 513-296-6522 and see how we can help you.
What Happens During Commercial Restoration in Cincinnati?
It's natural to wonder what to expect if you need help with commercial restoration in Cincinnati. There is no one-size-fits-all procedure for commercial restoration. Instead, the services you need may vary depending upon the type of property damage you are dealing with. Crews are prepared to help if you have a flood, fire, sewage backup, or mold outbreak. Based upon your needs, we may:
Conduct a property damage inspection
Pack out your undamaged inventory
Handle roof repairs and boarding up
Take care of water removal and flood cleanup
Repair structural and aesthetic structure damage
Remove odors and unsightly discoloration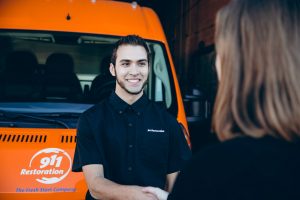 Bringing your commercial property back to perfect condition is our primarily goal after you call us for help. We can begin working on water damage restoration and fire cleanup right now. Crews bring along cutting-edge property restoration equipment to renovate and repair your business.
Water damage restoration crews in Cincinnati have the training to help if you experienced a pipe burst or a natural disaster. We can quickly handle water removal in Cincinnati and crews can even dehumidify your commercial property. Let us use infrared scanners to make sure all moisture is removed from your business.
You can also count on us to take care of mold growth following a roof leak, basement flood, or pipe burst. We can check for mold with an inspection and handle mold decontamination in Cincinnati starting today. call us at 513-296-6522.
Will Insurance Cover Commercial Restoration in Cincinnati?
Most commercial property owners in Cincinnati have property owner's insurance. Your insurance may cover water damage restoration, fire cleanup, and mold remediation. Note that insurance companies are more likely to cover your losses if you begin the commercial restoration process right away.
911 Restoration of Cincinnati has experience working with insurance companies in Cincinnati, Dayton, West Chester, and surrounding areas. We can help you file a claim after a water damage emergency, fungal outbreak, or fire. We can also help you list out items that were damaged in the emergency, so you can be reimbursed by your insurance company.
You can contact us whenever you need help the most. Our commercial restoration specialists are always on call, no matter what type of property emergency you are facing. You can contact us if you need:
Help with water removal after a basement flood
Repair for fire damage after a kitchen fire
Assistance with frozen pipes or leaking pipes
Mold remediation services for your business
911 Restoration of Cincinnati is a locally owned and operated company. This allows us to reach properties quickly in the event of a fire or water damage emergency. You can contact us if you are facing a natural disaster or a manmade property disaster.
Crews have the experience and training to handle fire cleanup, water damage restoration, and mold decontamination in West Chester. Get the assistance you need today by reaching out to us. We can reach your business in under an hour to start water removal, mold cleanup, and fire damage restoration in West Chester. Call us at 513-296-6522 and please allow us to offer you a free visual inspection. 
Serving the communities of Loveland, Maineville, Mason, Milford, Terrace Park, West Chester, Camp Dennison, Cincinnati, Dayton and surrounding areas.