Water Damage and Mold Removal in Dayton
When water or fire damage strikes your property, basic cleanup services won't cut it. You need a contractor who can make your home or business new again. You need 911 Restoration of Cincinnati.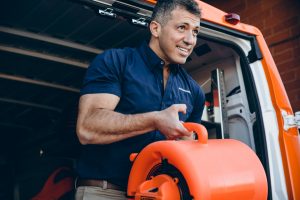 We provide 24-hour emergency flood cleanup for everything from frozen pipe bursts to storm damage. Our highly trained water damage restoration crew is at your service even on weekends and holidays. And when your call comes in, they're at your door in 45 minutes or less.
Our flood cleanup technicians move quickly because they understand how much is at stake. The longer water stands on your property, the higher your risk of damages like rotting, warping, and weakness. We established our 45-minute arrival time so you can rest assured that our team is working hard to minimize your damage and costs.
We even offer a free insurance consultation to help you make sense of your complicated policy. One of our flood cleanup experts takes the time to explain which services are covered and which are not. They even help you file a claim so you get every dime you deserve.
911 Restoration of Cincinnati is licensed, insured, and bonded. Our IICRC certified technicians are highly trained in all aspects of water damage restoration, fire cleanup, and mold removal. They even repair damaged structures.
Our ultimate goal is to turn your frozen pipe burst or property fire into an opportunity for a Fresh Start. If you need water damage restoration, mold removal, or fire restoration in Dayton, don't hesitate. Call 911 Restoration for excellent service and neighborly care.
24/7 Emergency Flood Cleanup in Dayton and Beyond
When you're dealing with a frozen pipe burst, flooded basement, or any other water-related disaster, call 911 Restoration. Our flood cleanup technicians will be there in 45 minutes or less.
As soon as they arrive, our crew immediately assesses the situation. They pack out and store any belongings at risk of harm, then begin emergency services. This could include boarding up, roof repair, sewer flood cleanup, and any other task required to eliminate the water.
After the water is off your property, our water damage restoration staff brings in professional blowers to dry the area completely. This step is important for avoiding long-term damage and potential mold development. Then, the crew tests for structural damage. If they discover any issues, they handle repairs personally.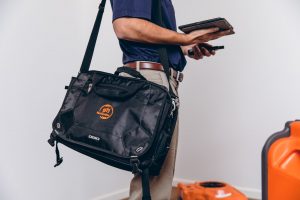 Finally, every water damage restoration job ends with a thorough mold inspection. It's important to search for mold following a water incident, especially a flooded basement. In fact, if you've recently had water damage but did not have a mold inspection done, we encourage you to call our mold removal crew. They examine the affected area thoroughly to make sure there is no infestation.
Mold remediation must be performed promptly because fungus poses a great risk to your property and health. The organism eats away at the structure of your home or business. It also releases dangerous particles into the air you breathe, making you vulnerable to health issues.
Our mold removal experts use only the most up-to-date tools and methods for mold remediation. They eliminate the infestation completely while minimizing the spread of spores and mycotoxins. Once they've completed mold removal, they dehumidify the structure to prevent a repeat infestation.
At 911 Restoration of Cincinnati, we think about the future of your property as well as the present disaster. For everything from pipe bursts to mold removal in Dayton, turn to 911 Restoration.
Fire Restoration and Smoke Removal Service
A property fire is a truly devastating experience. That's why our fire restoration staff does everything possible to anticipate your needs, address your concerns, and get you through this challenging time quickly.
Our fire cleanup technicians have undergone rigorous training in property restoration. When you call 911 Restoration, you don't have to seek out another contractor. Our crew does it all, from odor and smoke removal to structural repairs.
Your dedicated fire restoration workers start by cleaning your property thoroughly. They use sodablasting techniques for soot, ash, and smoke removal. They use sealing and similar procedures to eliminate odors for good. Our staff even cleans your furniture and dishes.
The crew also repairs or replaces all fire damaged surfaces. If you need a new roof, drywall repair, or flooring replacement, they're on it. They handle water damage restoration and mold remediation if the fire department flooded your property. 
Along the way, our fire damage technicians are careful to communicate clearly and often. We know that when it comes to fire restoration, you have nothing but questions. Our goal is to offer clarity and simple solutions, including a free fire damage insurance consultation. 
This is no doubt an overwhelming time. But you don't have to get through it alone. Call 911 Restoration of Cincinnati for comprehensive and compassionate service.
Servicing the cities of Camp Dennison, Cincinnati, Dayton, Kings Mills, Loveland, Maineville, Mason, Milford, Terrace Park, West Chester, and surrounding areas.