Water Damage and Mold Removal in Loveland
If you've recently endured a frozen pipe burst, flooded basement, or any other property disaster, you will get through this. In fact, you can consider this an opportunity for a Fresh Start. All you have to do is call 911 Restoration of Cincinnati.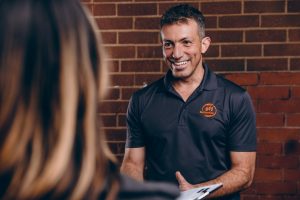 Our water damage restoration and mold removal crew is IICRC certified and trained for any crisis. They're available 24/7 to serve you in any emergency, and they guarantee an arrival time of 45 minutes or less.
Between year-round wet weather and frequent pipe bursts, there is always a need for flood cleanup in Loveland. As a locally owned and operated business, we're committed to providing our neighbors with comprehensive relief. Count on our water damage restoration technicians to handle everything from water extraction to roof repair. They don't just clean up the water. They make your home or business feel like a refuge again.
In addition to providing excellent flood cleanup and mold remediation, our team serves you with compassion. We know the stress you're under, and we work hard to alleviate every worry… including your financial concerns. Take advantage of our free insurance consultation. A member of the water damage restoration staff explains your coverage to you in clear terms. You go into the flood cleanup process knowing exactly what your provider will and will not pay for. We even file a claim on your behalf.
At 911 Restoration, you're not another invoice. You're a neighbor in need. For clear communication, genuine compassion, and expert service, call us today.
Full Service Water Damage Restoration and Mold Remediation
When we promise to provide a full recovery from mold or water damage, we mean it. 
If you have a flooded basement, frozen pipe burst, or any other water issue, call 911 Restoration. You can reach our water damage restoration crew any hour of the day or night, every single day of the year. 
When they arrive at your property, they provide a free visual inspection and explain the flood cleanup process. If you have any undamaged items in the affected area, our workers pack these belongings and store them for safekeeping. Then they remove all water from your home or business and repair the source of the problem. Whether you need roof repair, leak detection, or sewer flood cleanup, they have you covered.
Our experts bring in professional-grade fans to dry the structure of your property. Then they conduct structural testing. This step is essential for catching any damage that might not be obvious. Sometimes water can cause weakness or rotting. Our water damage restoration staff catches those issues before completing the job so they can leave you with a solid property.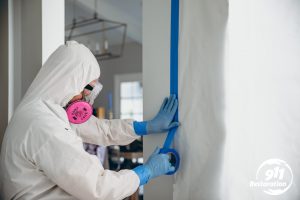 A mold inspection and mold removal are also key to a full recovery from a pipe burst or flooded basement. Mold reproduces quickly and can spread to other areas of your property through airborne spores. The sooner we catch a new infestation, the safer you and your property are in the long run.
If you suspect you have a mold infestation, do not delay. Call our mold remediation crew as soon as possible. Prompt mold removal is not just a matter of protecting your home. Most mold infestations are either allergenic, pathogenic, or toxigenic. They all carry different degrees of health risks, but none of them are safe to live with. 
Our mold removal workers eliminate your infestation completely and safely. They dehumidify the site of the colony to prevent new growth, and they repair any fungus-related damages.
Everything we do—from water damage restoration to mold removal—we do with your wellbeing in mind. If you're dealing with a property crisis, don't panic. Just call 911 Restoration of Cincinnati for flood cleanup and mold removal in Loveland.
The Best Resource for Fire Cleanup in Loveland
When you're standing in the ashes of your property, you may have trouble imagining the path forward. Recovery seems so far away. In fact, it feels impossible.
Let us assure you, a Fresh Start waits for you on the other side of this disaster. 911 Restoration of Cincinnati can get you there.
Call our fire cleanup crew, and we'll take every worry off your plate. Our trained and certified fire restoration technicians handle all aspects of fire damage repair and smoke removal. This includes repairing the surfaces and structures that have been destroyed. Your dedicated fire restoration crew also uses sodablasting and sealing techniques for odor, ash, and smoke removal. They clean all surfaces, including furniture and dishes. Our fire restoration experts even take care of flood cleanup if your place has been drenched by the firehose. 
We at 911 Restoration see you as a neighbor. The entire fire damage staff works diligently to answer questions and anticipate your needs. For your peace of mind, we offer a free fire damage assessment and a free fire restoration insurance consultation. 
A property fire feels like the end of the world. We believe our job is to offer you a new beginning.
Call 911 Restoration today for full-service fire cleanup and smoke removal.
Servicing the cities of Camp Dennison, Cincinnati, Dayton, Kings Mills, Loveland, Maineville, Mason, Milford, Terrace Park, West Chester, and surrounding areas.