Water Damage and Mold Removal in Mason
Your home or business is your greatest asset. When your property is struck by a frozen pipe burst, mold infestation, or fire damage, you need a restoration company you can trust. Turn to 911 Restoration of Cincinnati. We're here for you in any disaster, from flooded basements to tornado damage. We even provide 24/7 emergency flood cleanup in Mason and the surrounding areas. When you call, our water damage restoration crew is there in 45 minutes or less.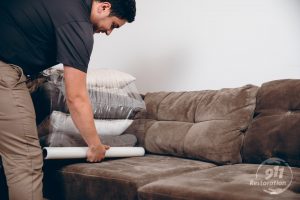 Water damage can devastate your home or business with rotting and warping. Fungus poses a threat to both the structure of your property and your health. In either case, you owe it to yourself and your pocketbook to seek immediate, professional assistance. Our flood cleanup and mold removal crew works quickly to limit damage and minimize the cost of recovery.
Our IICRC certified crew is trained in all aspects of home and business restoration. Whether you need sewer flood cleanup or roof repair, they've got it covered. They also go to great lengths to provide peace of mind. They know what you're going through, and they're determined to get you to the other side quickly and easily.
If you don't know whether the service you need is covered by your insurance provider, we'll figure it out. Just ask for a free insurance consultation. A team member explains your policy in clear terms, so you can go into the water damage restoration process with a clear sense of your expenses. Our staff also helps you with loss itemization and files a claim for you. 
At 911 Restoration of Cincinnati, we think of everything so you don't have to. Moving beyond this flooded basement or pipe burst is much easier than you think. For full-service water damage restoration, mold removal, and fire cleanup, call us today.
Your Best Source for Water Damage Restoration in Mason
911 Restoration is the most trusted flood cleanup contractor in the Mason area. This is because we provide top-tier service, compassionate attention, and professional transparency. 
When the water damage restoration workers arrive at your property, they offer a free visual inspection (for property owners only). Our technicians provide a clear overview of the task ahead so you always know what's happening to your property and why.
Your dedicated flood cleanup crew focuses first on minimizing the destruction of your home or business. They protect your belongings by packing out and storing any items at risk of damage during cleanup. Then, they eliminate the water through sewage extraction, boarding up, storm repair, roof repair, or any other service you require.
Once all water has been removed from your flooded basement, the team brings in professional-grade fans to dry the space. This helps prevent long-term damage from mold or structural decay. Then, to ensure a full recovery from storm damage or pipe bursts, the crew inspects for structural destruction and mold growth. If they find either, they take care of repairs and mold remediation themselves.
Our flood cleanup technicians are also trained and certified in mold removal. This is an essential skill, as infestations frequently form after a flooded basement or similar disaster. Even if you have not had recent water damage, you should contact a mold removal specialist right away if you suspect you have an infestation. The longer mold lingers on your property, the worse the damage will be in the long run.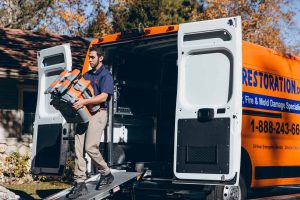 The mold remediation workers at 911 Restoration perform a thorough mold inspection to ensure every trace of growth is discovered and eliminated. Their mold removal techniques adhere to the highest safety standards of the profession. The team is careful to avoid spreading spores throughout your property. They also dehumidify the site of the growth to prevent a repeat infestation.
Whether you're recovering from a frozen pipe burst or you need mold remediation, let us be your first call. For fast, thorough service, count on 911 Restoration of Cincinnati. 
Free Fire Damage Assessment
Fire damage is overwhelming. You may feel lost. You may have no idea where to begin on your road to restoration. Don't worry. Our fire cleanup crew is here to take care of you.
We provide a free fire damage assessment (for property owners only). A member of our fire restoration staff examines your property and offers a comprehensive view of the path forward. They also offer a free fire and smoke damage insurance consultation. This way, you have a clear picture of your expenses before fire restoration even begins.
You can also rest assured that when you call 911 Restoration for fire cleanup, you won't have to make another call. Our technicians do it all, from odor and smoke removal to major structural repairs. They even handle smoke removal for your dishes and furniture. By the time they're done, your property looks, smells, and feels brand new.
One unexpected aspect of fire damage recovery is flood cleanup. When the firefighters blast your home or business with water, you're left with a flood. Not to worry. Our fire restoration experts handle that, too. They take care of water extraction, structural and carpet drying, and even mold remediation.
Things may feel hopeless right now. But with our fire cleanup workers on your side, this is the dawn of a Fresh Start.
Call 911 Restoration for fire restoration in Mason and beyond.
Servicing the cities of Camp Dennison, Cincinnati, Dayton, Kings Mills, Loveland, Maineville, Mason, Milford, Terrace Park, West Chester, and surrounding areas.