Water Damage and Mold Removal in Milford
Properties in Milford are always vulnerable to water damage. From winter storms to summer rain, the local climate hits countless homes and businesses with flooded basements. That doesn't even take into account the threat of frozen pipe bursts and other ordinary incidents.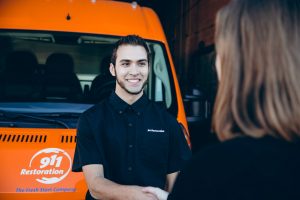 Fortunately, 911 Restoration is here to provide flood cleanup and mold removal in Milford and the surrounding area. Our IICRC certified technicians even cover fire cleanup and smoke removal. Whatever the disaster, we're here for you. We provide emergency flood cleanup 24 hours a day, every single day of the year. And when your call comes in, a water damage restoration crew is at your door in 45 minutes or less… guaranteed.
911 Restoration of Cincinnati is locally owned and operated. We're licensed, insured, bonded, and eager to serve our neighbors in need. You can always count on our team for top-tier service, open communication, and peace of mind. We provide a free visual inspection (for property owners only) and a free insurance consultation. We value professional transparency. It's important to us that our customers always know what they're getting and what it costs, whether they're recovering from a pipe burst or property fire.
We train all team members extensively. Every flood cleanup, mold removal, and fire restoration expert on staff does what it takes to make your property new again. They handle sewage extraction to roof repair, smoke removal to mold remediation. Our goal is to help you find your way through disaster and on to a Fresh Start.
Whether you own a home or a business, make 911 Restoration of Cincinnati your go-to contractor in any disaster. Call now for fast, friendly service.
Basement Flood Cleanup in Milford
We clean a lot of flooded basements in Milford and the surrounding area. Between the wet climate and frequent pipe bursts, basements are constantly at risk of water damage.
Fortunately, a flooded basement doesn't have to mark the beginning of the end for your property. You just need a reliable water damage restoration contractor to see you through with comprehensive service.
Our flood cleanup staff works quickly to remove at-risk items from the damaged area and extract all the water or sewage. If you require any additional services to stop the flow of water, they take care of that, too. This includes storm repair, roof repair, and boarding up.
Once the water damage restoration technicians have removed all the water, they dry the area using professional blowers. Then, they conduct structural testing and mold inspection to ensure your property is still safe and sound. If they discover rotting, weakness, fungus, or any other issue, they handle repairs and mold remediation personally.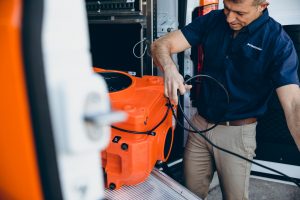 The technicians at 911 Restoration are all trained and certified in fast, effective mold removal. If you suspect you have an infestation, we encourage you to call us for an inspection right away. Many property owners make the mistake of handling mold remediation themselves. These DIY methods are rarely effective. Worse, they can be dangerous if your mold removal efforts put you into direct contact with black mold or other toxigenic varieties.
Let us do the tricky work of safe mold removal. Our mold remediation crew even knows how to prevent a repeat infestation through structural dehumidifying. 
Whether you're recovering from a frozen pipe burst or a mold infestation, one thing is certain: 911 Restoration makes your property new again. Call now and look forward to a Fresh Start. 
Complete Fire Restoration and Smoke Removal
If you've had a property fire, you may feel like your home or business is gone forever. Even if the structure still stands, it looks nothing like the property you poured your heart and soul into.
At 911 Restoration, we recognize how much time and money you've put into making your property a refuge. We want to help you recover the home or business you love with comprehensive fire restoration and smoke removal.
Our fire cleanup staff begins by offering you a free fire damage assessment and insurance consultation. Once you give us the go-ahead, our workers pack out and store any unharmed belongings to keep them safe during fire restoration. They use sodablasting for ash, soot, and smoke removal. They eliminate odors permanently, scrub your dishes, and clean your furniture. You don't even have to worry about rebuilding. Our fire restoration experts repair drywall, replace your roof, remove carpet… whatever it takes to make the place new.
Even water damage restoration is included in our fire cleanup strategy. If your home or business has been flooded by the firehose, our fire restoration experts have it covered. They extract the water, dry the area, and even check for mold.
Fire and smoke damage may feel permanent, but it's not. You will get through this. All you have to do is call 911 Restoration of Cincinnati for compassionate fire cleanup in Milford and beyond.
Servicing the cities of Camp Dennison, Cincinnati, Dayton, Kings Mills, Loveland, Maineville, Mason, Milford, Terrace Park, West Chester, and surrounding areas.