Water Damage and Mold Removal in West Chester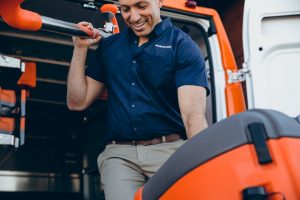 If you need water damage restoration or mold removal in West Chester, call 911 Restoration of Cincinnati. We serve West Chester and the wider region with comprehensive property restoration services, including flood cleanup, mold remediation, and fire restoration. Our water damage restoration crew is on-call 24 hours a day, 7 days a week. When you reach out to us with a frozen pipe burst, flooded basement, or any other emergency, technicians arrive in 45 minutes or less. That's a guarantee.
We offer this speedy service because we understand how much is at stake. Water damage can be costly and devastating, especially if it's not addressed immediately. Whether it's a home or business, your property is your greatest asset. You can count on our compassionate staff to treat your property as if it were their own.
All our technicians are IICRC certified and have completed extensive training to bring you the best possible service. Their expertise ranges in everything from sewer flood cleanup to roof repair. You can rest assured we don't just provide flood cleanup and mold remediation. We give you a Fresh Start.
If you're worried about the cost of fire or water damage restoration, let us ease your mind with a free insurance consultation. A member of our staff sits down with you to review your insurance policy. They explain which services are covered by your provider, from smoke removal to drywall replacement. Then, they assist with loss itemization and file a claim on your behalf. We even do direct billing, so you don't have to think about the costs you're not responsible for.
911 Restoration is a locally owned and operated company, which means you are our neighbor. And you can expect us to treat you like one.
For the service you deserve, call 911 Restoration of Cincinnati today.
Emergency Water Damage Restoration in West Chester
Property owners in West Chester know the threat of flooded basements all too well. From storms in the spring to frozen pipe bursts in the winter, this climate always finds a way to attack your property.
That's why our water damage restoration staff is here for you any hour of the day or night, all year long. 
When you call with a flood cleanup emergency, they rush to the scene. They pack out and store any items that stand in harm's way. Then they work quickly to stop the flow of water through storm repair, roof repair, boarding up, or leak detection. The water damage restoration workers extract all standing water or sewage and dry the area with blowers.
Flood cleanup doesn't end here. Flooded basements, pipe bursts, and other water incidents can have long-term effects on your property. To prevent future problems, the water damage restoration workers inspect for mold and structural issues. If they discover any problems, they address those issues personally.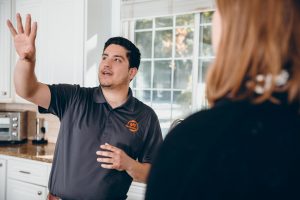 Mold remediation is a big part of what we do at 911 Restoration. This is because mold removal so often goes hand-in-hand with water cleanup. But please note, dramatic pipe bursts are not the only way water can enter your property and create an infestation. If you see suspicious spots on your wall, notice funky smell coming from the wall, or experience unexplained dizziness, call us. Our mold removal experts inspect your property thoroughly to uncover hidden infestations. They use only the safest mold removal techniques to eliminate the infestation without spreading dangerous particles through your home or business. And they conduct structural dehumidifying to guard your property against a repeat infestation.
In any event, 911 Restoration is more than a flood cleanup company and more than a mold removal service. We provide comprehensive care to ensure your property stays strong and beautiful for the long haul. For expert service, call 911 Restoration of Cincinnati.
Full-Service Fire Restoration for a Fresh Start
911 Restoration is the top choice for fire restoration in West Chester for several reasons.
First, we offer total transparency. When you call, we send a fire cleanup expert to your property for a free fire damage assessment. We believe this step is important so you have the information you need as you decide how to proceed with fire restoration. Our expert explains what services are required to fully restore your home or business. Then, they provide a free fire cleanup insurance consultation. This provides a snapshot of which expenses fall to you and which your provider pays for.
Our local community also values 911 Restoration for our commitment to excellence. All members of our fire cleanup crew are thoroughly trained to handle every step of the recovery process. They manage soot, ash, and smoke removal. They eliminate odors permanently. They clean your furniture and dishes, and they repair all fire damages on your property. The fire restoration team even handles flood cleanup after water damage from the firehose. 
Finally, our customers appreciate the compassion of our fire restoration workers. At 911 Restoration, we believe in approaching each new job with empathy. You're not just an invoice to us; you're a neighbor in need. That means everything we do is done with the goal of providing peace of mind. We answer your fire damage questions promptly and completely. We anticipate your needs and work swiftly to get your life back on track. 
Above all, we work hard to turn your nightmare into a Fresh Start. 
For the compassionate fire cleanup service you deserve, call 911 Restoration of Cincinnati.
Servicing the cities of Camp Dennison, Cincinnati, Dayton, Kings Mills, Loveland, Maineville, Mason, Milford, Terrace Park, West Chester, and surrounding areas.