Fire Damage From Power Outages in Cincinnati – What to Do About Them?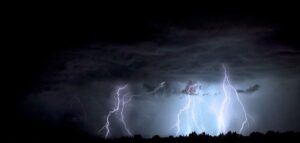 There's nothing anyone can do during a power outage. There's total darkness broken by flashlight and the glow from mobile phones, as occupants haplessly wait for the power to be restored.
Life gets back to normal once the power is back – or does it? All it takes is a minor spark during power restoration to start a fire. In fact, some fire incidents can be traced to power restoration in the area – and the risk is high enough for most homeowners in Cincinnati to take this seriously.
The risk is even higher during a storm or water intrusion in Cincinnati. Think of it this way – the water provides an alternative pathway for electricity to flow and that can lead to a short circuit. Now you've got all the makings of a fire. Toss some heat-generating appliances into the mix, such as a hair dryer and stove that were active before the power outage, and you've got a huge fire hazard just waiting to happen.
So what can you do about them? Simple – turn these appliances off. They draw a lot of energy from the outlet and the sudden burst of current can create sparks that will escalate to a fire. This is doubly true when you're not at home.
Turn the Breaker Off When You're Not Home
This could be a lifesaver – not just for occupants in the building but also for your property. Turn off the breaker if you're not at home. When you do switch on the breaker, pay attention to unusual odors and sights that could indicate an electrical problem. If the sounds and smells you get are suspect, switch off the breaker and call an electrician right away.
Out With the Old, In With the New
Older appliances are just that – older and worn out. You can't trust the wiring and cords because they could pose a fire hazard. There's also the issue of old insulation material used in these appliances that are prone to issues. A simple electrical repair is not the solution. It's best to ditch these appliances in favor of new, more safer tools. It will cost you in the short run but it will save lives.
Besides, regulations and standards are changing to accommodate safer and better living. Older appliances will not keep up with the new safety regulations. As a rule, if an appliance is older than 10 years, you should consider it for replacement. This applies to heavy things such as fridges, stoves, microwaves, and any other appliance that may draw a lot of power.
Install a Surge Protector
This is a big one. Power restoration is a dangerous situation because it creates overvoltage that travels through power lines and fires up your electronics – and maybe even cause a fire.
This is where a surge protector comes in. These devices are designed to absorb the voltage spikes so that it doesn't cause a fire. This also applies to lightning from the sky. Powerful lightning from the sky can lead to severe fire incidents.
If you've been told that a storm is about to hit your area, unplug your electronic devices until the storm subsides. Better yet, install a surge protector so that you can continue using your appliances without worrying about fires.
It's worth noting that surge protectors lose their effectiveness every time they do their job.
We recommend hiring a fire damage restoration consultant to inspect your home, appliances, wiring, and surge protector to see if something is amiss.
Don't Use Extension Cords During Storms
Extension cords are bad news during a storm especially when too many appliances are drawing power from a single socket. This is not how sockets are designed to handle the load.
Once the circuit is overloaded, especially during a power restoration, your home would be at a major risk of an electrical fire. This is why it is important to never overload your electrical sockets.
Ask your electrician to install additional outlets to accommodate your needs.
Pro tip: Extension cords that are smashed up and have visible signs of damage can produce a lot more heat, eventually melting the insulation from inside – and you won't know it until it's too late.
More Tips for Preventing Loss During Power Outages
Make sure your fuse box and breakers are checked by an electrician
Call the power company as soon as you come across electrical hazards and frayed up wires
Check social media fees for outage information in your area
Look outside the window to spot any downed power lines and call for support immediately if you spot one
Do not leave candles unattended
Conserve the battery on your smartphone for use during emergencies
If you've got any questions, your local 911 Restoration team is available for help in Cincinnati. We are experts at fire restoration services and will respond swiftly to your needs.