Types of Space Heaters & Safety Precautions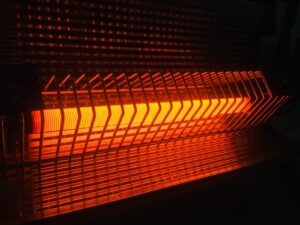 In the United States, space heaters are one of the leading causes of home fires. They are blamed for about 65,000 residential fires every year. These fires have resulted in hundreds of deaths, thousands of injuries, and millions of dollars of loss in property damage. This is why you must learn more about which space heaters you should be using and how you can prevent them from causing any sort of fire or electrical hazard.
Space heaters are a basic requirement for us to provide a warm environment on cold days, but that does not hide the fact that they can cause massive electrical and fire hazards if not used properly. Fire and electrical hazards can be caused by space heaters that are handled without adequate safety measures, placed near combustibles, or improperly plugged in.
Here, you will learn about space heater safety tips and the different types of space heaters so you can enjoy their warmth without any fire or electrical hazards.
Know the Right Type and Size
All types of space heaters come in various shapes, sizes, and designs, from little personal heaters for a chilly office to big outdoor heaters for the garage. If you're going to use a heater, making sure its power type goes well with your space and needs would be one of the best ways to prevent any fire or electrical hazards. You should also look for some specific features such as overheat protection, safety-approved UL/ETL/CSA certification, long wires, and timers.
From personal space heaters tiny enough for your home office to massive units powerful enough to warm your living room, space heaters come in all sizes. While both electric space heaters and oil-filled space heaters can be utilized at home, some propane and fuel-burning types are better suited for use outdoors or in open areas such as your patio or garages.
Heaters for Indoor Space
These types of space heaters are the most prevalent and commonly suggested among other indoor space heaters. In general, none of these groups is more secure than the others. It all relies on how effectively you will be able to take care of it.
A portable space heater is a compact appliance that you can transport easily from one place to another without anyone's help. They are often electric and have quartz or ceramic heating elements that produce heat via convection, infrared, or radiant heat.
Oil-filled heaters warm up your space by using thermal convection and radiant heat. The oil inside the device distributes heat evenly, offering extra heat to the space. They are safer to use indoors than propane or kerosene heaters since they burn cleaner. Furthermore, there is no need to replace the oil within.
Radiant space heaters use infrared rays to generate heat and warm you directly rather than warming your surroundings. They have different models to be used for indoor or outdoor spaces. Radiant space heaters fashioned like little fireplaces are also available to bring a cozy ambiance to your living room.
Heaters for Outdoor Space
Space heaters like propane or kerosene heaters can emit harmful gases such as carbon monoxide as they use carbon-based fuels, which might be causing a huge risk for the entire household.
Propane heaters, like your grill outside, generate heat by using a gas tank. Large and small propane heaters for outdoor usage are available, but they are often more expensive than kerosene-burning heaters.
Patio heaters work well in large outdoor spaces with flat surfaces such as floors made up of cement or bricks. They are often like a tall tower that uses your home's natural gas or a built-in propane tank to heat the surrounding.
Kerosene heaters work by burning flammable gas, which is why it's better to keep them in your outside space. They're a terrific addition to your camping goods if you enjoy being outside.
Safety Measures
It's better to focus on the safety measures that are provided with your space heaters than the material it is manufactured from. As long as you follow the space heater safety tips mentioned below, you will be good to go!
Invest in a space heater that shuts off automatically. It is beneficial for both safety and convenience, particularly if you have children or pets at home. If the heater is turned over or overheats, it will cut off automatically, avoiding the risk of fire and scorching your carpet, rug, or anything below it.
Keep a three feet distance between your heater and other items that may catch fire, such as your curtains, bed, and other furnishings.
Keep a constant check on your heater and never leave it unattended, especially when there are kids or pets around and not when you are going to sleep. You can also opt for a smart heater or one with a timer, so you are assured of your safety while sleeping.
Do not install your heater in regions that block an exit or doorway so that you have a route out in an emergency. If you need to heat a room, instead of placing the space heater at the entrance, try using a wall outlet within the room.
Never use a power strip to power a space heater since power strips aren't built to handle the amount of electricity required. If the heater is plugged into a power strip, the strip may overheat and catch fire. Wall outlets are better suitable for your heater because they can withstand higher voltage than power strips.
Make sure you have a smoke detector outside each room of your house and that it is working properly.
Space heaters aren't inherently dangerous, and they may be utilized to heat your home safely. If you're thinking about getting one or plan to use one you already have, these space heater safety tips will be very useful. In case of any emergency, residents of Cincinnati can always call 911Restoration of Cincinnati to help you get a complete property restoration.