Is Mold Dangerous for Concrete as Well?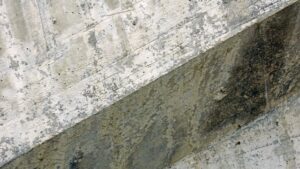 If you live in Cincinnati, there is one thing you should be worried about: Mold growing on concrete.
When it comes to preserving the beauty and durability of your concrete walls, driveways, and floors, you must keep them protected from mold infestation.
Even though concrete is one of the strongest construction materials, it is still susceptible to mold growth owing to its porous nature. Mold spores can easily breed on concrete surfaces and use the trapped moisture to further spread their roots.
Is Mold on Concrete Dangerous?
Yes, mold growing on concrete is no good news. Mold growth on concrete comes with several risk factors, and if you do not remove it on time, you might have to pay a hefty price for it.
Mold growing on any surface inside your home is considered dangerous, especially when it's on concrete. This is because concrete mold poses a severe health hazard, and it is comparatively more difficult to remove it from concrete than other surfaces.
Besides this, black mold is more commonly found on concrete surfaces, and it is known as one of the most toxic kinds of molds found in homes.
If you find black mold or any other kind of mold on concrete, you will be at risk of the following symptoms:
coughing
wheezing
stuffy nose
redness or itchiness around the eyes
irritated throat
skin rash
allergic reactions
flu-like symptoms
headaches
migraines
breathing difficulty
congestion
fatigue
nausea
These are among the most common symptoms of mold exposure, and both children and people aged 50+ are at higher risks of experiencing them.
Moreover, severe mold on concrete can also cause health problems for people suffering from asthma or chronic lung diseases. Mold exposure can make their condition worse.
Besides being a health hazard, mold on concrete also causes several other issues.
First of all, mold spots on your concrete walls and floors are a complete eyesore. Mold makes your home appear untidy and unhygienic, ruining the overall ambiance of your home.
Apart from this, mold does not only look ugly on the surface; it causes internal damage too. Even though concrete is a strong material, it starts deteriorating when attacked by mold spores. The structural integrity of concrete is severely damaged by mold infestation. This leads to several other problems like internal pipe leakage and other plumbing issues.
Moreover, mold on your concrete walls and floors also depreciates your property's value. When you try to sell a property with mold on concrete, you will have to compromise on the property value. The real estate market does not encourage buyers to invest in mold-infested houses.
Therefore, if you see any moldy spots on your concrete surfaces, you need to get them treated immediately. The more you delay mold removal, the more problems it will create for you in the future.
How to Prevent Mold on Concrete?
While it has been established that mold on concrete is extremely dangerous, it is better to take safety measures to prevent mold growth. Here are a few steps you can take to control and prevent mold growth:
Keep all your basement windows tightly sealed and cover them with plastic to avoid getting rainwater inside.
Check the humidity levels of your basement regularly to ensure there is less moisture in the atmosphere. You can also use a dehumidifier if the moisture levels are high.
Apply mold-resistant sealer on your concrete walls and floors to control mold growth in the first place.
Do not keep newspapers, magazines, wood items, etc., in the basement as they are susceptible to mold growth.
Mold from wooden furniture can also spread across the basement. Therefore, make sure you keep your wooden furniture covered.
Regularly clean your gutters and drainage lines to prevent mold infestation.
Check for leaky pipes, broken faucets, etc., and resolve all plumbing issues at the earliest.
Call a professional mold removal company to mold-proof all concrete surfaces in your home.
Reach Out to 911 Restoration of Cincinnati for Concrete Mold Removal
When it comes to removing mold from stubborn surfaces like concrete, it is better to call a professional mold removal company to do the job. According to environmental protection experts, if you find mold in your home that is more than 10 square feet in size, you should immediately reach out for professional help.
If you are from Cincinnati, your best bet is to get in touch with 911 Restoration of Cincinnati for world-class mold removal services. 911 Restoration of Cincinnati has been providing successful home restoration services for the past several years. They have a team of experienced and trained professionals and the right tools and equipment to treat any sort of mold from all surfaces.
911 Restoration of Cincinnati offers a reporting time of 45 minutes with 24/7 customer care support. You can call them for a free assessment of your property. Moreover, if you are looking for other home restoration services like water damage restoration, fire damage restoration, sewage cleanup, sanitization, disaster restoration, and commercial cleaning services, contacting 911 Restoration of Cincinnati is an excellent choice.
Visit their website for booking and more information. Good Luck!