How to Know If Your Sewer Line Is About to Collapse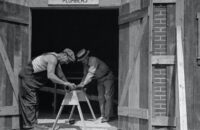 When we think of a clog or a sewer issue, we mostly think of the clogs that occur around the pipes leading from our toilets to the main sewer line. We understand just how traumatic these clogs can be and the process it takes to clear them and the mess they have created. 
However, regardless of how painful it can be to manage a toilet clog and clear the mess they create, the biggest problem comes when you have to deal with a main sewer line clog. A main sewer line clog can impact the main sewer line located outside of your home. The degradation of the main sewer line can eventually lead to a collapse, which results in significant repairs, an uncontrollable mess and a long time to clear. 
Knowing the problems associated with clearing a collapsed sewer line, it is necessary that you identify the signs of a collapse beforehand and take immediate action before things get out of hand. 
In this article, we look at how you can tell when your sewer line is about to collapse. These tips will help you identify the problems in their infancy and come up with clear solutions before things go wrong. 
More Frequent Backups 
Your entire bathroom is soaked in wastewater when your toilet backs up. The process can be filthy, to say the least, and disgusting to clear away. More people are likely to call a plumber if their toilet backs up than they would if the bathroom tub or the sink backed up. The truth is that the toilet backup happens to be disgusting and can expose quite a few of your leftover wastage. 
However, if the frequency of your toilet backups increases, you can identify that the main sewer line is about to collapse at any given time. Immediate action might save the day for you, but failure to take action at the right time will put you in harm's way. 
Multiple Fixture Clogs 
All of the drainage from your home goes down to connect to the primary sewer line. When your primary sewer line is about to collapse, you will witness a drastic increase in the number of fixture clogs in your bathroom and other areas. 
All of your toilets, sink, shower drains and bathtubs are connected to the same sewage line. If you see that the water isn't draining properly in the shower, followed by a backup in the sink and bubbling in the toilet, then chances are that your sewage has deteriorated beyond repair and the mainline is about to collapse at any moment. 
If the main water line has already collapsed, then you wouldn't be able to even clear the backup in all your fixtures. 
Soaked Lawn 
Since your main sewage line is positioned outdoors, chances are that it is located under the yard. As a result of this, a sewerage line that is about to collapse will develop a small leak, which will exponentially soak up your yard. 
The water from all of your drains flows into the main sewer line. Once you flush your toilets or wash your dishes in the sink, the water from there rushes into the mainline and a small leak can damage the yard and lead to patches of wet land around it. Obviously, you may not be able to see these wet patches at first, but once the ground saturates beyond a certain limit, you will notice that the land above the leak is completely soaked in water. 
Your backyard will prominently display lines of sewer line damage once the line has totally collapsed. However, you can follow your due diligence to make sure that the damage is unearthed initially and there is nothing left for later.
Foul Odors 
The entire purpose of a sewage line is to take the dirty water from your drainage system far away from your home into the main system. This system itself is also completely sealed and does not let odors or foul water sneak out. 
However, if you smell foul odors coming from the main sewage line, you should be able to tell that something is wrong. Foul odors emanating from the drains is usually a sign that the line is about to collapse anytime soon. 
Foul odors are prominent to notice and you should be able to tell when things are going bad. 
When a sewer line in your home collapses, the only possible solution available to you is to replace it. You will hopefully want to detect the leak or the point of damage without much digging involved. The following steps will be required as part of the process: 
Assess the route followed by your sewer line. 

Dig up the line that needs replacement. 

Remove the damaged line from both ends. 

Fit in the new line. 
Sewer line restoration or replacement can be an extensive process if you don't have the right team available. 911 Restoration of Cincinnati is just a call away for you! You can get in touch with us to perform a thorough inspection of your home and clear it up for future use.