Recovering What You Lost – Bringing Your Home Back To Its Original Condition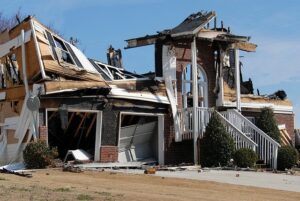 There are times when even houses need a first respondent to rescue them from progressive wear and tear after a crisis. You need professional support to recover items and handle hidden problems before things turn into an ongoing nightmare.
Emergency restoration services come through during the worst-case scenarios (i.e. water damage, sewage backup, fire), with our speedy service and dedicated efforts.
Learn how we bring your home back to its original condition in record time.
What Do Home Restoration Experts Do?
We are here to breathe new life into damaged homes after a crisis. We achieve this feat by equipping ourselves with specialized tools and in-depth information related to this topic. Additionally, we offer a diverse range of options to accommodate all types of home emergencies.
Here's an overview of what we offer:
Undetected leaks, continuous rain, flooding, and other natural disasters can cause severe water damage. You might even face some problems when your sewage line backs up, causing freshwater to mix up with dirty black water.
Our goal-based water damage restoration strategy includes water extraction, sanitization, cleanup, and house repairs.
Soot and smoke residue cling to homes long after the firefighters leave. Its presence makes the house inhabitable as its toxins spread all over the house. We provide tailored fire mitigation strategies to prevent permanent loss.
Has your house become the breeding ground for musty mold and mildew? The process focuses on complete mold removal, cleanup, and sanitation and moisture control. All these steps ensure that unwelcome guests leave your home once and for all.
Besides this, we offer disaster restoration services for houses that have sustained damages after unfavorable weather.
In other words, we know how to tackle emerging issues and protect your property from future damage.
Why Should You Choose 911 Restoration?
We take great pride in being one of the best home restoration services in Cincinnati. Our seasoned team of experts has years of experience in handling home reconstruction projects, big and small. We do everything we can to reverse damages and return your property to its original condition. To ensure that you return to a safe and comfortable home after a traumatic event.
Here's what sets us apart from companies 
Free Home Inspections
We begin your home restoration journey with a detailed evaluation of the target site(s). The survey allows us to create a tentative plan to fix your damaged home by finding the root cause of the problem and identifying potential threats.
These no-obligation assessments give you an idea of how we work and what we can bring to the restoration process.
24/7 Emergency Restoration Services in Cincinnati
We work around the clock like emergency respondents in healthcare and community services. These business hours ensure that you receive the best care possible as soon as tragedy strikes at your address.
The quick response plan manages to minimize reconstruction costs as we manage to recover your property before things escalate.
A Well-Vetted IICRC Certified Team of Specialists Ready to Serve You
Clear all your doubts by working with a team of qualified home restoration experts. Our Institute of Inspection, Cleaning and Restoration Certification (IICRC) serves as a reminder that all our workers have received specialized training for this job. We have the skills and expertise required to tackle all property damage challenges thrown your way.
Customized Home Restoration Strategies
We never lose sight of what you want from our home restoration services. Know that every step we take will be coordinated with you from start to finish. We also make an effort to align our work with individual requirements instead of rehashing generic mitigation plans from a previous project.
All this ensures that you enjoy a unique experience call use for consultation and reconstruction.
Insurance Support
We offer practical advice and attainable solutions for your insurance claim process. That often means helping you collect sufficient evidence to file an insurance claim and get the coverage you deserve.
In short, we are an all-accessible, always available, and cooperative team of experts.
Final Words
In conclusion, 911 Restoration does its best to restore your dream home. You can get in touch with us for all types of home emergencies. Commonly used services include water damage, sewage backup, smoke and fire damage, disaster restoration services, etc.
You can trust our team to streamline operations and offer quick and effective solutions to your problems. Adding to this is our insurance support to ensure that most of these expenses get covered by your insurance company.
Call (513) 296-6522 to schedule an immediate consultation with our home restoration experts.