Water Damage and Mold Removal in Cincinnati
You have invested countless resources and energy into your property. It's clean and beautiful because of your hard work. So it feels like a slap in the face when your home or business is damaged by a Cincinnati storm or devastating fire.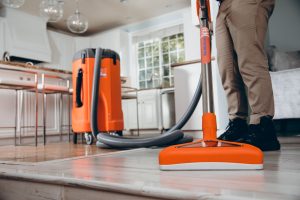 Don't worry. 911 Restoration of Cincinnati is here for you in every disaster. We take care of everything from water damage restoration to mold removal to fire cleanup in Cincinnati and the surrounding area. Our IICRC certified technicians do what it takes to make your property new again, including flood cleanup and repairs.
We also recognize that when your property gets hit by a frozen pipe burst or flooded basement, it's an emergency. That's why we offer 24-hour service, 7 days a week. We even offer a guaranteed 45-minute arrival time for your peace of mind.
Our Cincinnati community means everything to us. As a locally owned and operated business, we care about protecting the properties that make our region great. We also care about taking care of you, our neighbor. You can expect compassion from our water damage restoration and fire cleanup professionals. They know what you're going through, and they know how to get you through it peacefully.
If you're worried about the cost of water damage restoration or any other service, take advantage of our free insurance consultation. A member of our staff reviews your insurance policy and clarifies which services are covered by your provider. Then, they assist with claim filing to ensure you get the benefits to which you are entitled.
Our goal at 911 Restoration is to give you the assistance you deserve from beginning to end. From frozen pipe bursts to flooded basements, mold infestations to fire damage, let us be your first and only call.
Expert Water Damage Restoration in Cincinnati
Quality water damage restoration is about more than water extraction or sewer flood cleanup. It's about fully restoring your property and protecting your home or business against long-term damage.
We provide a wide range of urgent flood cleanup services. This includes emergency boarding up, storm repair, roof repair, and water removal. Our water damage restoration technicians serve both residential and commercial properties. They are trained and equipped to help you recover after any disaster, whether you're dealing with a frozen pipe burst, tornado, or ceiling leak.
The first order of business is to stop the flow of water and eliminate all moisture from your property. Then, our water damage restoration crew conducts structural testing. If there is any permanent damage to your property, our professionals repair, replace, or restore the material. Finally, they conduct a mold inspection to ensure your water damage disaster hasn't led to further property issues.
It is especially important to inspect for mold following a flooded basement. Mold thrives in dark, damp spaces. If you don't bring in a professional mold removal crew right away, you're bound to have serious damage in the long run.
Our mold remediation workers examine your property closely. If they find any growth, they use professional mold removal tools to eliminate the problem safely and completely. After mold removal, they dehumidify the structure. This step is essential for preventing a repeat infestation.
Whether you need flood cleanup or mold removal in Cincinnati, consider 911 Restoration your best ally. We don't rest until we know your property is back in top condition. Call today.
Smoke Removal and Fire Cleanup for a Fresh Start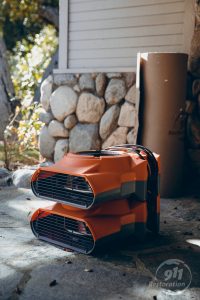 When most people endure a property fire, they think of it as a loss. They've lost their home, their business, and years of hard work.
At 911 Restoration, we reframe today's disaster as tomorrow's Fresh Start.
We do this through comprehensive fire restoration and smoke damage cleanup. Our highly trained fire cleanup crew handles everything, from sodablasting the walls to wiping down your dishes. They eliminate all odors, perform complete smoke removal, and leave every surface sparkling. Our fire restoration technicians are even highly skilled in property repairs. From singed carpet to destroyed drywall, you can count on them to repair, replace, and rebuild.
In many cases, water damage comes hand-in-hand with fire damage. The fire department leaves your property flooded from the firehose. No problem. Our fire restoration technicians are also skilled in flood cleanup. They dry your home or business and even inspect for mold.
All along the way, our staff communicates clearly so you know what to expect and how to move forward. We invite you to consider us your fire information center. There's no question too small, no worry too big.
You will get through this. You just need compassionate, comprehensive service. Call 911 Restoration of Cincinnati for fire cleanup and smoke removal.
Servicing the cities of Camp Dennison, Cincinnati, Dayton, Kings Mills, Loveland, Maineville, Mason, Milford, Terrace Park, West Chester, and surrounding areas.